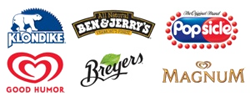 Unilever North American Ice Cream, headquartered in Green Bay, WI, is the largest manufacturer and marketer of branded packaged ice cream and frozen novelties in the United States. It's well-known brands include Breyers®, Ben & Jerry's®, Popsicle®, Good Humor®, and Klondike®.

Unilever Ice Cream introduces more new products every year than any other ice cream company. For foodservice, the company offers impulse novelty solutions such as the Giant King Cone® and Popsicle Scribblers® with Juice; super premium, premium and value solutions including new Breyers® Fried Ice Cream in three-gallon tubs and the unique Klondike® Fried Ice Cream Choco Taco novelty; and powerful branded solutions from Breyers® to support menu development and branding efforts. Ice cream shop solutions offer a way to entertain and delight customers by mixing in fresh fruit, cookies, pie fillings or candies to make their dream ice cream recipe.
So when you think of Unilever Ice Cream, think of the most famous names in ice cream and frozen novelties. For more than a century, our products have kept Americans smiling!
Product Categories