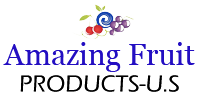 Amazing Fruit Products is an innovative company dedicated to the development of all-natural fruit based snacks and ingredients. We have a US patented process for infusing dried fruit with all-natural fruit flavoring. This unique process takes place in our Safe Quality Food (SQF) certified plant under the highest standards of hygiene and manufacturing practice.

Amazin' Raisins come in a variety of crowd-pleasing flavors such as strawberry, sour lemon, orange, sour pineapple, peach, sour watermelon, and raspberry and come in a convenient 1.3 ounce single serving bag. Not only are they Smart Snacks, but each package has 1/4 cup of dried fruit which is the equivalent of the 1/2 cup fresh fruit requirement.

Amazin' Raisins are vegan, gluten-free, GMO-free, and manufactured in a facility that is entirely peanut and tree nut-free, making Amazin' Raisins free of all eight of the FDA's major food allergens.
Product Categories