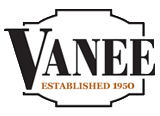 Vanee™ is the ingredient that professional foodservice operators use when they need to create low cost and easy-to-execute menu items. Vanee™ can help you turn back-of-the-house simplicity into front-of-the-house enjoyment. Our products include Roasted Gravies, Broths, Breakfast Entrees, Dinner Entrees, Meats, and much more.
Vanee has been family owned and operated since Joseph and Adriana Van Eekeren first started the Vanee Foods Company way back in 1950.
From those heady, early days of selling frozen tubs of oven-roasted sliced beef in gravy to local restaurants and taverns to what must have seemed like the far-flung future of the 21st century where we now find ourselves, Vanee has had a decades-long commitment to quality, innovation and foodservice operators everywhere.
Product Categories