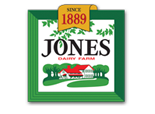 At Jones, we understand the importance of family and how a home-cooked meal brings people together. But great food isn't just for Sundays anymore. When you serve your family Jones quality hams, sausage, and bacon, every day will seem like the weekend.
A century old family-owned and operated company with a long tradition of innovation, integrity, consistency, and uncompromising quality.
From the beginning, Jones Dairy Farm has placed a premium on keeping one step ahead of the times. The year was 1889 when Milo C. Jones originally began promoting his family's recipe for savory sausage from choice cuts rather than the trimmings used by many sausage producers. This time tested family recipe is still used today.
Product Categories