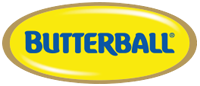 For more than 50 years, Butterball has been a leader and innovator in the turkey industry. Today, we're the turkey experts—dedicated to responsibly supplying the highest quality products with the highest level of customer service. With seven plants across the country, we service a true national distribution network.  Our dedicated Research & Development Team supports process improvements and product innovation to meet the growing demand for turkey.
Our Expertise

Thanks to our top-of-the-line Sales, Marketing and Research & Development resources, we can truly say we are The Turkey Experts. We know turkey consumers—where they dine out and what they think of turkey in restaurants. We know the operators—how they feel about their menus and what they need for success. Among operators, our brand ranks the highest in consistency, quality, food safety, products with patron appeal and brand reputation. We know the trends—how they impact consumers and operations.
Our Resources
Our focus is on one protein. That means 100% of our resources are dedicated to the production and development of exceptional turkey products. We're a nationally recognized brand with expansive marketing opportunities and support. Our regionally aligned Customer Service Team is proactive, responsive and committed to finding solutions. Our own Master Chef is dedicated to serving up culinary insights, recipes and menu ideas. We have nationwide foodservice reach, with a Distribution Sales Team and National Account Team.
Product Categories