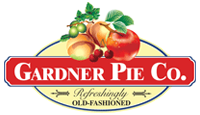 The Gardner Pie Company, located in Akron, Ohio, has been family owned and operated since 1945. We offer a wide variety of quality pies for farm markets, in-store bakeries, retail bake shops and the food service industry.
Gardner Pie Company is a major supplier of quality pies to upscale markets and distributors across the country. Our 48,000 square foot facility located in Akron, Ohio produces a variety of 8-, 9-, and 10-inch pies. Minimal processing and top-quality ingredients ensure a pie that rivals homemade.
From rich, flaky crust to mounds of juicy, fresh fruit, every Gardner pie is bursting with homemadegoodness. We use only the finest and freshest ingredients and follow time-honored family recipes, so you can count on old-fashioned flavor in every delicious bite. Our pies are also kosher-dairy and have 0g trans-fat per serving. One taste and you'll understand that quality ingredients make the difference –
The Gardner Difference.


Product Categories