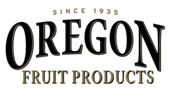 Providing creative solutions for an ever-changing industry...
For over 71 years Oregon Fruit Products Co. has supported the Food Service sector by providing premium berries, cherries and other specialty fruits in many forms of packaging, including cans, aseptic purees and frozen packs.
Today, our Food Service Team is a solution-oriented supply partner, offering one of the largest selections of preserved Pacific Northwest fruits, with the ability to complete challenging fruit projects in creative ways. In today's hectic environment, being a Food Service supplier means more than just having a good price and friendly service; it also means being a resource for creating products and answering questions.
To fulfill the ever-changing requirements of this industry, Oregon Fruit Products Co. now offers "on-demand" fruit flavors. In addition, we are also developing new products - such as a smoothie fruit base, and a frozen puree made with whole fruit. From beverages to breakfast: we know your expectations and strive to rise to the challenge.
We look forward to helping you provide for your customers the Pacific Northwest fruit flavors they love. Discover the difference experience makes, with a well established and respected supplier like Oregon Fruit Products Co. ...we're here for the "long run".
Product Categories