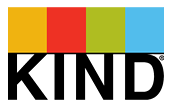 KIND Snacks are a brand of healthy, nutritious, and all-natural snacks made by PeaceWorks Holdings, a "not-only-for-profit" company that brings delicious food and peacemaking together.
When we first started out, the KIND team of foodies and health nuts put their heads together to imagine what their ideal snack would be, and came up with a simply food philosophy we still follow today: yummy, filling, convenient, healthy, and socially-conscious. Or to put it another way, all KIND Snacks are "KIND to your body, your taste buds, and the world"™. Keeping that ethos in mind, we're constantly inventing new delicious snacks packed with nutrients and wholesome "ingredients you can see and pronouce"™.
The icing on the cake? A minimum of five percent of all profits from KIND go to the PeaceWorks Foundation which empowers moderate voices in communities across the world who seek to end violence and conflict in their own lives.
Product Categories