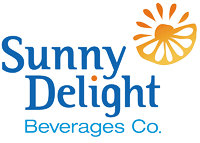 The Sunny Delight Beverages Co. is a leading producer of juice-based drinks in North America, headquartered in Cincinnati, Ohio. It curently produces and markets 7 brands: SunnyD, Elations glucosamine and chondroitin dietary supplement, Fruit2O flavored waters, Bossa Nova superfruit beverages, Veryfine juices, Fruit Simple fruit smoothies and Crystal Light bottled beverages.
Sunny D was launched in Florida by Doric Foods in September 1963. The company had a variety of names and owners over the years, and ultimately, became the Sunny Delight Beverages Co. in August 2004

The company has 600+ employees with its main research and development center in Cincinnati and 5 manufacturing facilities throughout the U.S.
Product Categories