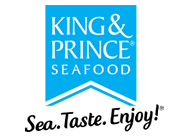 King & Prince Seafood featuring Mrs. Friday's® offer more high quality seafood products to help operators bring seafood excitement to their menu.   
King & Prince is home to award-winning products including everything from breaded, battered and glaze-coated shrimp to wild caught, hand-cut, breaded and beer battered fish fillets.  In addition to shrimp and finfish, there are hand-made crab cakes, lobster tails, oysters, stuffed crab, scallops and calamari.  And recognized favorites like Krabbycakes®, Lobster Sensations® and Mrs. Friday's Smoked Salmon. 
Exceptional products like these don't just happen.  A long-standing commitment to helping operators grow their business through unique, consumer appealing seafood has driven development of the most capable R&D team in the business.  Whether it's creating hot, new seafood product ideas or helping an operator drive incremental profits by adding seafood to their menu, this group of classically trained chefs and experts in coating and flavor systems leads the industry in developing innovative seafood solutions.
To discover more about the innovation of King & Prince and Mrs. Friday's products, visit: 
Product Categories