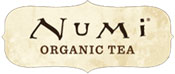 Numi Tea was founded by a brother and sister team - Ahmed and Reem Rahim - in the fall of 1999, in Oakland, California, and have been transforming the tea industry ever since. After observing that competing brands in the U.S. tea market differed little from one another in quality, consistency, and selection, they created a company whose hallmark is super premium, organic full leaf teas and herbal teasans, all made without the use of any oils, flavorings or tea dust.
Numi pioneered the introduction of exotic teas from around the world such as Rooibos (Red Tea), Lemon Myrtle, Honeybush, Dry Desert Lime and others that were popular in Europe but completely unknown in the United States. Numi is responsible for the excitement and interest around these herbs in the greater tea industry. Subsequently, other tea companies have added Rooibos, Honeybush, and Lemon Myrtle to their lines. Numi continues to bring new products to consumers, most recently with its "Leaves of Art" hand-sewn and handcrafted Artisan tea line.
Since opening its doors, Numi has captured the imagination and palate of tea drinkers worldwide.
Product Categories