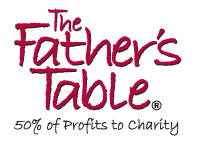 The Mission of The Father's Table is to bring family and friends together any time of the day with our desserts that are baked from scratch using only the finest ingredients. From the real sour cream, rich cream cheese, and sweet vanilla used in our New York Style Cheesecakes to the fresh Key West Key Lime Juice used in our Real Florida Key Lime Pies, our desserts are always baked perfectly for your family and friends.
The Father's Table is a new company entering the School Food Service Market with Lil' Bites - the perfect bite size portions, and Wrap It Up! - Fresh Tacos.
Another key Mission besides bringing family and friends together is to give back to our Associates, their families and women/children's charities worldwide. That is why a percentage from every dessert sale is donated to The Father's Table Foundation, which helps to fund women's & children's charity groups worldwide.

So join us in "Sharing the Bounty of Life" with those in need.
Product Categories