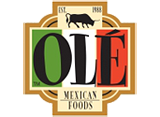 Olé Mexican Foods was established May 5, 1988 in Decatur, Georgia, a suburb to the east of Atlanta, with a small machine that produced 400 dozen tortillas per hour. Growth was so fast that by the end of the year, we moved to a larger facility in Chamblee, Georgia and added a second tortilla maker. Today, we have 5 lines of production and work around the clock, 7 days a week to create what we feel is the best tortilla products on the market.
As our growth continued, we expanded company operations throughout the southeast, doing business first in Florida and then in South Carolina, North Carolina, Tennessee, Alabama and Virginia and eventually throughout the entire southeastern United States. We have warehouses and distribution centers in Florida, North Carolina, South Carolina and Georgia, with our main operations being our Atlanta location.
With 89 thousand square feet of space in our Atlanta warehouse alone, Ole Mexican Foods produces and distributes are range of tortilla products including La Banderita, La Popular, Olé Brand and our Olé Food Service line.
Currently, OLE Mexican Foods is one of the largest tortilla manufacturers in America with products sold from coast to coast. We offer a wide range of authentic Mexican products beyond the traditional tortilla, including chorizos, cheeses and Xtreme Wellness Products. Veronica's enduring commitment to quality and family has never changed. The Moreno family continues to run the company guided by their promise of delivering high quality products. It is this commitment that we hope to share with you each time you make OLE Mexican foods a part of your own traditions.
Product Categories