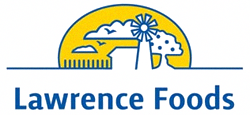 A FAMILY BUSINESS RUN WITH PRIDE: Traditions of quality and service have made Lawrence Foods a preferred supplier to in-store and retail bakeries, foodservice operators and commercial manufacturers throughout the country for over 75 years. Today, Lawrence Foods is one of the bakery industry's leading ingredients suppliers. We occupy a technologically advanced facility in suburban Chicago and manufacture the industry's finest fillings, toppings, icings, glazes, jellies, preserves, dry mixes and specialty items.
ONLY THE FINEST INGREDIENTS: Unlike many of our domestic and foreign competitors, we do not own interests in orchards or agricultural processing plants. This allows us to buy in the geographic regions offering the finest fruit from season to season. We demand the best to ensure that our customers get the best.
TECHNICAL SUPPORT: Our technical staff includes a senior research scientist, food technologists and master bakers who are all dedicated to helping customers achieve their unique business objectives. With a working baking environment operating as part of our testing laboratory, we can better understand our customers' challenges and develop ingredient solutions for them.
EXPANDING CUSTOMER HORIZONS: We listen carefully to our customers because what they tell us is our primary source of information in developing innovative product and packaging concepts for them. That's why we serve the largest to the smallest retail bakery operations, commercial manufacturers and foodservice operators and distributors across the country.
WE WANT TO BE YOUR BAKING INGREDIENTS PARTNER!
Product Categories