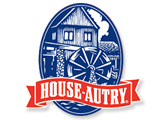 House-Autry Mills is located in Newton Grove, North Carolina. We manufacture premium quality breaders and mixes along with grinding several varieties of high grade stone ground corn meal. House-Autry has been the choice of southern cooks since 1812. The company's success has been based on the idea, "make it easy, make it good, and keep them coming back for more". For almost 200 years, we have continued to improve upon that same philosophy.
We opened our mill in Newton Grove, North Carolina in 1812. The mill stones were shipped from England to Wilmington, North Carolina and then transported up the Cape Fear River. They were transported overland by oxcart and mule team. Back then we called ourselves House's Mill. We kept growing and in 1967 we merged with the Autry Brothers Mill Co. and became House-Autry Mills.
When we changed our name, we changed a few other things too. Corn meal was our bread and butter product line, but we had a few ideas for new products. So we created Seafood Breader, which wraps seafood in a light and crispy coating with a touch of seasoning. Then we added a hushpuppy mix that fries up light and crunchy every time. We taste tested them in restaurants and the response was overwhelming.
Quality is #1 at House-Autry Mills. We use only the finest and freshest ingredients to make our products. Our Quality Assurance Department tests every batch of breaders, mixes and corn meal to assure that only the highest quality product is being delivered to you.
Product Categories