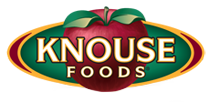 A family tradition, deeply rooted in quality
Knouse Foods is an established growers' co-op with more than 50 years of partnership that grows ever stronger. Our brands feature the quality products of 150 "family" members whose orchards are nestled along the Appalachian Mountains and throughout the rich, rolling meadows of the Midwest.
Just like you, food is our business. By controlling the entire production process from farm to table, we offer you and your patrons a bounty of fruit products that meet the highest standards for taste, quality and consistency. You'll find these distinctive characteristics in every Musselman's, Lucky Leaf or Apple Time branded product you select.
Click here to access Knouse POS.

Click here to access Knouse Recipes.
Product Categories