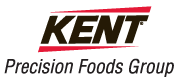 Kent Precision Foods Group specializes in developing, blending, and packaging dry mix food products. In addition to its dry blending capabilities, KPFG offers a diverse line of branded products for the foodservice and consumer channels. Kent Precision Foods Group is a subsidiary of Kent Corporation. Kent Corporation and its subsidiaries make advancements and product offerings in food products, food and beverage ingredients, pharmaceutical and personal care applications, animal nutrition, and companion animal products.

Operating companies today work with customers in more than 60 countries and include Grain Processing Corporation, the Kent Nutrition Group, and Kent Precision Foods Group. The entire family of companies has approximately 1,800 employees and does business in the US, Canada, and throughout the world.

Kent Precision Foods Group is engaged in skillfully developing, producing, marketing, and distributing dry blended and packaged food products of uncompromising quality and service. Our products include frozen desserts, sauces, seasonings, soups/bases, gravy mixes, dressings, side dishes, desserts, and beverages. Kent Precision Foods Groups' brands include Foothill Farms, Frostline Frozen Treats, DOLE Soft Serve, LAND O'LAKES, and Sqwincher.
Product Categories