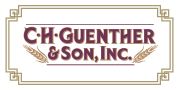 In 1851, a short 15 years after the fall of the Alamo and the successful fight for Texas independence, C.H. Guenther and Son, Inc. began as a family owned and operated business committed to providing the kitchens of its community with the highest quality flour.
Then, in 1859, C.H. Guenther made the first of many forward-thinking decisions. He sold his original mill in Fredericksburg and opened an even greater mill in the burgeoning town of San Antonio. This move foreshadowed C.H. Guenther and Son. Inc.'s enduring ability to adapt, grow and prosper with the times.
Today, we're much more than flour, but we continue to remain a family, a very large family to be sure. We embrace each product and business branch of the C.H. Guenther and Son, Inc. family tree with equal family pride. Family pride you taste in our tried and true consumer products from trusted brands like Pioneer Brand, White Wings, Peter Pan and Morrison. Family pride you experience with our outstanding foodservice line of products. Today, the company produces everything from biscuit mixes to gravy to frozen dough to fully baked products.
Over the past century and a half, the wide-open Texas skyline has changed. But in the home, restaurant and institutional kitchens of America, you'll find that the dedication of C.H. Guenther and Son, Inc. has remained the same.
Product Categories