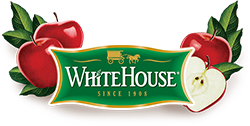 The true measure of a successful food service manufacturer is the ability to meet the needs of a very diverse group of end users. This customer base includes restaurants, hotels, supermarket delis, bakeries, caterers, schools and healthcare institutions.

We service this varied end user group through a network of hundreds of food service distributors. Products are sold under the White House brand, as well as many distributor labels.

We cater to our customers by delivering products from four-ounce cups of apple sauce to full-size tanker trucks of vinegar.

Our foodservice line includes a wide variety of apple based products, pie fillings, cheese sauces and vinegars...The list continues.
Product Categories