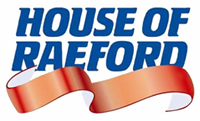 Eight Decades of Customer Satisfaction
Take a look at the history of House of Raeford Farms and it's easy to see why we rank at the top in customer satisfaction. Today, we offer the world's most complete line of poultry products – with the same commitment to providing quality and value to our customers that has guided our company from the beginning.
Current House of Raeford Chairman of the Board, Marvin Johnson, has come a long way since he and his brother began selling their parents' homegrown turkeys on the streets of Rose Hill, North Carolina. After World War II, the Johnson family turned their efforts into a true commercial venture and pioneered the turkey industry in the eastern part of the state.

Today, our fully integrated facilities cover every aspect of the industry – from specialized breeding to the production of raw, processed and fully cooked chickens and turkeys for retail and food service customers. New product development is ongoing at House of Raeford. And the new products we introduce are carefully selected to meet the evolving needs of consumers and food service operators.

Providing the world's most complete line of poultry products is made possible by House of Raeford's unique combination of operations, which now encompasses eight facilities in North Carolina, South Carolina, Georgia, Louisiana and Michigan. While growth has been the hallmark of House of Raeford throughout our company's history, it has not daunted our commitment to quality and personalized customer service. Still a family-owned company, House of Raeford insists on no-compromise quality in every product they offer. And that's why our chicken and turkey products are known as "The Ones With Real Taste."
Product Categories