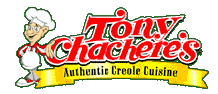 Tony Chachere's refers to the creole seasoning created by South Louisiana chef Tony Chachere. Today, the official name of the seasoning is Tony Chachere's Original Creole Seasoning. Tony Chachere's® Creole Foods began in 1972, following the success of Tony's "Cajun Country Cookbook." The company is owned by Tony's remaining descendants and is currently run by Don Chachere (President and CEO), Tony's grandson. The company now offers a variety of cook books, seasoning blends, dinner mixes, marinades, sauces, batters, and frozen items that were prepared with Chachere's products.
The company is based in Opelousas (in the heart of Cajun Country), the seat of St. Landry Parish. Opelousas is the hometown of Tony Chachere and the Chachere family.
The main ingredients in Tony Chacere's are salt and red pepper, however garlic and other spices also contribute to the flavor.
Product Categories
Our Brands