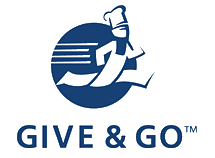 At Give & Go Prepared Foods we produce a wide variety of premium thaw and sell bakery products for retailers and food service operators across Canada, the United States, Mexico, and the United Kingdom. We are a solution provider for our customers, always striving to exceed expectations on quality, service, innovation and speed to market!
Our family of employees is passionate about baking, it's what we do. We take pride in all of our products knowing that each and every one of them is made with the best and simplest of ingredients. We market our products under category leading brands such as Two-Bite®, Homestyle™ and Caterers Secret™. In addition to our own consumer recognized brands, we also produce many specialty products for our valued customers under their private label programs.
The Give & Go Prepared Foods range of products is extensive stretching across most of the bakery category. Although we specialize on small indulgence sweet goods, we do have other great tasting single serve and family sized products to meet the needs of today's consumer.
At Give & Go Prepared Foods we take the quality of our products seriously. We pride ourselves on making use of state of the art production technologies and a unique in-house bakery process to produce consistent, high quality products year round. We comply with "Good Manufacturing Practices" and operate at industry leading levels of quality assurance standards and procedures. Give & Go Prepared Foods is certified by the AIB (American Institute of Baking) at the "Excellent" rating level and is also HACCP certified (Hazard Analysis and Critical Control Points). In addition, Give & Go Prepared Foods has completed an FPA (Food Products Association) supplier audit and has recently been C-TPAT certified (Customs-Trade Partnership Against Terrorism). All Give & Go products are Kosher Dairy and certified COR by the Kashruth Council of Canada and are OU certified by the Orthodox Union.
Product Categories